Manufacturing a product is difficult but marketing it, exhibiting it to the targeted customers and getting a positive response is quite hefty. However these days the way of alluring customers has been slightly modified. The producers or manufacturers these days chase the customers virtually. By using push messages and a very effective method known as email marketing. A number of email marketing agencies offer great services at an affordable price. If you are an entrepreneur and you wish to attract profit then you should definitely give this marketing strategy a chance. In this blog we have mentioned some of the best email marketing agencies for you to consider.
WHAT IS EMAIL MARKETING?
Email marketing can be defined as the process of sending a commercial message using email only. This message targets a group of people that are most likely to be the potential customers. To put it simply we can say that every email sent to a potential or current customer could be considered as email marketing. It involves using email to send advertisements, request business, donations, solicit sales or any other thing that involves the sense of marketing.
BEST EMAIL MARKETING AGENCIES
Among numerous email marketing firms we have enlisted some of the best email marketing agencies that will help you to grow your business.
This platform is suited the best for the smaller enterprises. It is a full package that not only works in the domain of email marketing but also provides you a complete package of marketing automation tools. At Sendinblue they charge you only for the messages and emails that you have actually sent. 
Other Services include:
Campaign designing

Smart segmentation

Send time optimization

Real time reports 

A/B testing

Email marketing

SMS marketing

CRM
Founded in 1995 this agency works with a knowledgeable team with deep roots in the email marketing domain. They  work with brands of all sizes, agencies, and email service providers to deliver best-in-class quality service, production, and support. InboxArmy is a full-service Email Marketing Agency that offers  the full spectrum of email marketing services.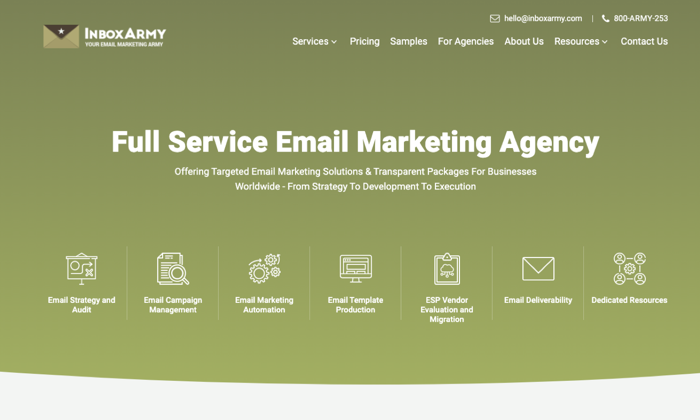 Other Services includes:
Email Template Production

Full-Service Campaign Management

Email Marketing Strategy

Campaign design

Email Marketing Audits

Custom Integrations and Email Automation 
This is one of the most preferred email marketing agencies in the market.  It offers a full package of the email marketing software, tools, and hands-on consulting that will help the entrepreneurs  to increase conversion rates and crush their revenue goals. Using the Rejoiner platform, brands like Native, Hydroflask, Guthy Renker, and Titleist have generated  revenue of over millions. Rejoiner's email marketing experts are there to help the user at every step.
Other Services includes:
Strategy

Design

Development

QA

Testing & optimization

Day to day campaign execution
FulcrumTech has been working in the domain of email marketing for 10 years. This agency is a full-service marketing agency that provides remarkable email marketing strategies to its clients. Being a partner of top marketing automation tools like Salesforce, HubSpot, and Listrak, the agency offers great services like end-to-end email marketing. Strategic assessment of client needs is their priority.
Other Services Includes:
Email campaign management

Design

Email service provider implementation

Strategy building

Email deliverability
MH digital
The agency focuses on making email an integrated part of your overall marketing and sales strategy. Whether it's generating new leads, nurturing existing contacts, or driving retention and referrals from past customers, they aim to ensure delivering the right message, to the right audience at the right time. With work experience with more than  hundreds of marketers over the years they have gained quality experience and have delivered satisfaction in the form of profits to their clients.
Other Services includes:
End to End marketing

Strategy

Design

Development

QA

Testing & optimization

Marketing experts support
IndieMark offers a wide range of services for technology, strategy, and execution. It allows the clients to partner with the agency. By doing so they can plan, create, deploy, and automate email marketing campaigns. There is also a unique feature, The BlackBox service featured by IndieMark. It is a subscription-based dataset for email risk assessment. They have worked with platforms like Marketo, MailChimp, Eloqua, SilverPop, and Bronto. However they don't cite any specializations in industry verticals. Yet they have experience as a full-service provider for clients in B2B, B2C, and non-profit fields.
Other services Include:
Email Template Production

Full-Service Campaign Management 

Email Marketing Strategy

Custom Integrations and Email Automation 

Email Marketing Audits

The black box service
SmartMail is an eCommerce-only email marketing agency. So if you are solely interested in Email marketing then this can be your option. They specialize in delivering high-converting trigger-based email campaigns, all Done For You (DFY). A team of experts in strategy, design and coding work rigorously for client success. 
Other Services Includes:
Grow email subscriber lists

Personalize campaigns

Sequence workflows

Create responsive email templates

Execute data integrations

Design A/B tests

Segment customers

Perform copywriting and design

Report on results
CONCLUSION
To experience a great deal of customers and a lucrative business profile one must get a hold of the technology. Email marketing agencies let you attract more potential customers along with giving them the update regarding the launch of any new product. Marketing automation tools are another such solution for increasing the customer engagement and of course the profit.