Long-tail keywords are longer, more precise keyword phrases that visitors are more likely to utilise when they are nearing a point of purchase or utilising voice search. The search volume for most long-tail keywords is lower than for short or "head" terms. They seem counter-intuitive at first, but they may be really useful if you know how to utilise them.
The term "long tail" refers to the visual representation of the form of a distribution graph. If we were to make a graph of web-wide keyword popularity, a few words and phrases (Facebook, Justin Bieber) would garner a massive amount of searches. But here's the interesting part: those keyword search words, the "head" of the dragon, make for a shockingly tiny fraction of all searches, anywhere from ten to fifteen percent, depending on how you measure it. Another 15% to 20% of searches originate from mid-length keywords, implying that around 70% of page visits are the direct result of – you guessed it – long-tailed keywords. It's a Chinese dragon, and the tail goes on and on.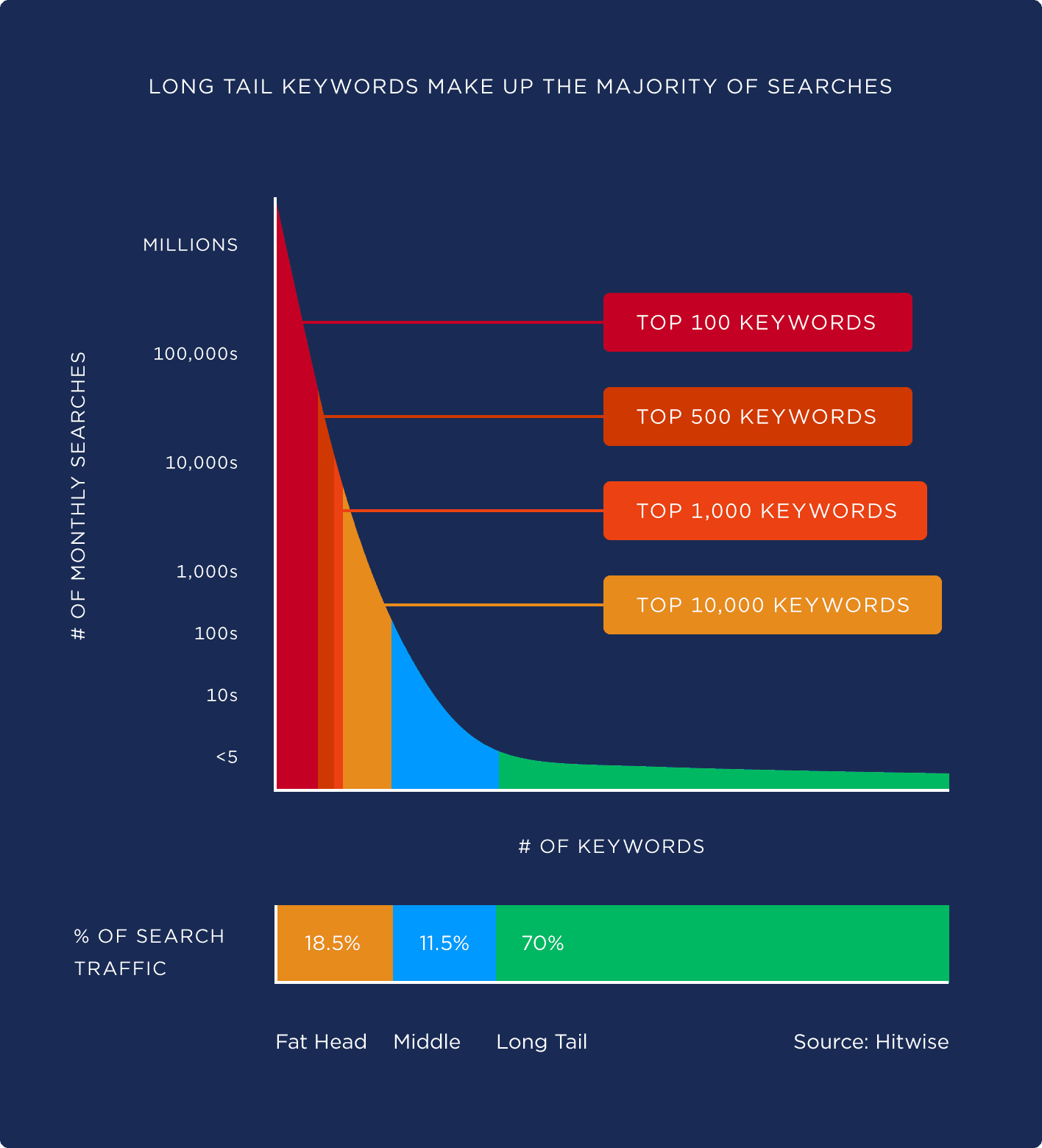 Reasons for long tail keywords being great
Reduced competition
Because of the low competition, long-tail keywords are considerably simpler to rank than short-tail keywords. They also account for 70% of all web searches, so if you don't include them in your approach, you're passing up huge potential to attract quality visitors.
Increased conversion rate
Long-tail keywords offer higher conversion rates since users are more specific about what they seek. For example, a person who looks for "kids sneakers online" is more likely to buy right away than a person who searches for "kids sneakers."
Increases the likelihood that your content will be noticed.
When someone searches for a long-tail term on Google, the results are significantly more tailored based on their location, age, gender, hobbies, and so on. As a consequence, two users who enter the same search query may get different results. Because they are more particular, long tail keywords might help you optimise your website for different types of searchers.
Benefits of using long tail keywords
It will help you rank for short-tail keywords too – Long-tail keywords frequently incorporate the short keywords for which you are most likely looking to rank. This makes it easier to achieve both of your objectives by increasing your ranking for both broad keywords and particular, focused keywords. This is wonderful news since higher site rankings equal more organic visitors.
It improves the effectiveness of your blogging approach – Creating a blog is one of the simplest strategies to get your website ranked. You don't have to be concerned if you're unsure where to begin because your long-tail keywords can help. They may provide you with insights into what your audience is looking for, allowing you to generate meaningful content that addresses some of their problem points while employing the key phrase.
It enables you to customise your content – Let's speak about how long-tail keywords may help you create better content. Long-tail keywords are made up of four or five words (often more) and typically include descriptive adjectives such as gender, nationality, or geographic region. You may take advantage of this by developing multiple pieces of content to support the various categories and services that your firm provides. This enables you to be more focused with your content strategy and profit from contextual marketing.
Google Analytics may provide you with inspiration – Long-tail keyword research isn't as difficult, as some of them may come directly from your site analytics provider, such as Google Analytics. You'll be able to monitor the performance of your chosen long-tail keywords, such as search volume and conversion rates, when combined with Google Search Console, allowing you to choose the best ones for your SEO plan.
It prepares you for future trends – Long-tail keywords are more conversational, which is an important component of any SEO approach. They're at the core of Google's newest search engine algorithm, which seeks to research Natural Language Processing (NLP) and search intent. Voice assistants, which read out replies from highlighted snippets, also prefer results that incorporate long-tail keywords.
Bottom line: Using long-tail keywords is critical for the future of your blog or website.
How to find long-tail keywords?
Make use of Google Suggest.
Google Suggestions is a great place to find long-tail keyword alternatives. Simply enter your basic term into the Google search box and see what variants Google provides.
If it appears in a Google recommendation, you know it's a term that people are looking for. These ideas may not inspire your trust in mankind (recall the "I am really scared of Chinese people" disaster…), but they may generate fantastic content.
Use Google's Related Searches feature.
Similar to Google Suggestions, which show as you type your query, these suggested related searches appear at the bottom of the SERP, below the first page of organic results. You may receive somewhat more ideas here (eight keywords versus four above), and they may be slightly more tailored (Google knows I reside in Colorado, thus the "Denver" and "Fort Collins" modifiers).
Utilize a Wide Range of Keyword Research Tools
If you simply utilise one keyword tool for keyword research, you're short-changing yourself and potentially losing out on a plethora of long-tail term variants. The Google Keyword Tool is a wonderful starting point, but if you're seeking for more long-tail keywords, check these other tools as well
The Free Keyword Tool from Word Stream – Sorry to brag, but our keyword tool will provide you with more long-tail ideas and help you uncover more keyword niches than most other tools on the market.
Google Trends – Discover what people are looking for right now.
Tools for Social Media — For example, YouTube's keyword tool and Twitter Search.
The more keyword tools you use, the better.
Analyse Your Data
Many, if not all, of the search terms that bring visitors to your website will be revealed by your statistics. You'll be able to locate a slew of long-tail inquiries creating traffic for you if you sift through these term referrers. These keywords may be important to your company, but they are not yet well targeted by a single page on your website. For example, a few years ago we discovered that many people were looking for "what's a decent click through rate" to get up at our site, but we didn't have a page with that title, so we created one, and it now produces plenty of traffic.
Exploit Your Search Query Reports
If you're running an AdWords PPC campaign, don't forget to utilise your Search Query Report in the same way you'd use your analytics. This is just one of many ways that PPC data may inform your SEO. The search terms that caused consumers to click on your adverts rather than organic search results are displayed in your Search Query Report. You also have more access to this data than you have to organic referrers in Google Analytics. It may also be easier to determine which keywords are generating conversions rather than just traffic. Long-tail keywords with a high conversion rate are very valuable.
Below is an example of a marketing software which might help you:
The ideas, inspiration, and content longtails you will receive for your niche issue will result in you creating a page of material that will more than pay for this product. And because they are in Google's database, we KNOW that these phrases are being searched for by a sizable number of people each month. It's a veritable goldmine.
Keyword Researcher is one of the most beneficial of them. Aside from being a terrific technique to generate content ideas, as an AdWords consultant, you can use it to find terms and phrases that my clients do not want to be bidding on (negative keywords). This is a huge time saver and budget booster for clients.
Keyword Researcher is fantastic since it not only allows you to easily uncover keywords that people are searching for, but it also has a clean and straightforward interface that makes it simple to keep track of what you've discovered. Keyword Researcher is intended to search Google, YouTube, and even Amazon.com's Autocomplete databases. That is a plethora of keyword sources! As you're undoubtedly aware, starting with a huge database of keywords (that your consumers are really putting in) is a great marketing tool whether you're developing an authority site or if you want to become a dominating player in your area.
It's difficult enough to come up with original content ideas for your website. However, Keyword Researcher enables you to develop article material about niche-specific subjects that only a small percentage of the world's population is actively searching for. You can enter incomplete article names into Keyword Researcher. And Keyword Researcher will try to "fill in the blanks" for you, revealing which terms people are genuinely looking for.
This keyword researcher has advanced sorting, searching, and categorising capabilities to help you sift out the keywords you don't want to target and manage the terms you want.
You may use Keyword Researcher to build Categories, Articles, and Paragraphs. It's never been easier to assign keywords since you just drag the keyword over to the article group.

---
Also Read : Hire Best FIVERR SEO Expert for Your Website | Blog