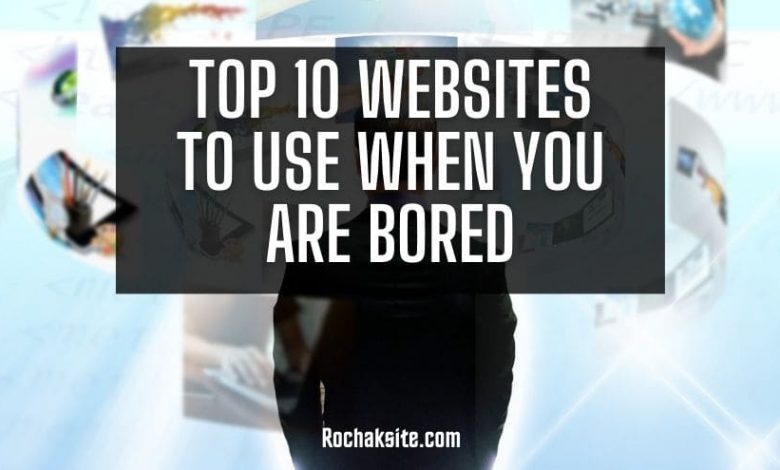 You might be looking for this content as you have already crossed the last limit of boredom. And also since 2020, sitting at home is tiresome. Having nothing to do is another sort of torture. By this time you might also have done all the levels of Netflix and chill. So now what to do to kill your boredom using the thing which is in your hand right now. There are plenty of websites on the internet in 2022 to kill the boredom. Scrolling down through your phone you will stumble upon this website and boom! Boredom gone.
All the lazy lads out there who don't wanna get out of bed and just wanna scroll something on the phone to kill boredom. Your issue has the answer right here in this article. Here are some of the sights you can look after while feeling bored. This will surely kill your boredom and help you to have some fun during your boring days. So stop looking at the ceiling lying down, thinking about what to do, and let's check out the websites.
CONTENTS
100000 Stars

WikiHow

Bored Panda

Mental Floss

Giphy

Buzzfeed

Reddit

Awkward Family Photos
100000 Stars
100000 stars is a 3D visualization of the galaxy and interstellar space. How about looking for some space-related things and some stars. This website shows the nearby stars and upon zooming, it also shows the names of the nearest 87 stars. Upon clicking on the stars also some information is given about the stars.
WikiHow
WikiHow is a website that almost everyone knows. All of us at some point in time have searched this on the internet while looking for some "How" questions. Well, this site has all the "How To" based articles and is very popular. When you have no work to do and you are bored having weird questions in mind which no one even tries to find out, well then you found the perfect website. 
Bored Panda
As the name itself suggests, this site is the key to your boredom. This site provides all sorts of bizarre yet articles on inoffensive topics. You can get articles about animals, comics, funny, weird. It is one of the leading art, photography design communities for the creative enthusiast out there. Don't forget to check this one out.
Mental Floss
This website is love at first sight for those lazy lads who love quizzes, facts, and brain teaser games. This site will kill your boredom while engaging your mind in some awesome quizzes as well as facts-based information. This site has various genres ranging from history, entertainment, pop culture as well as strange animals. Hurry up and check it out.
Giphy
Well, this site is a must-check for all lovers. Everyone loves GIFs. Most of our WhatsApp conversations begin with GIFs and end with GIFs. Also, the craze of usage of stickers during conversations with friends is a trend. These gifs can be converted to stickers. This page contains all sorts of GIFs ranging from heart-warming, love, couples to hilarious, angry  GIFs. There are also anime, cartoon GIFs. You can also download them and use them for later fun conversations with friends and family. Enjoy!!
Buzzfeed
Buzzfeed is one of the leading websites which is very popular and known by everyone. This site has all sorts of news, quizzes, and vital journalism topics. This site is an all-in-one website for trending information. One will fall in love with this site if they love random gossip, celeb news as well as facts. It is an American website that is known for its trending reports and gossip. Make sure to check it.
Reddit
Reddit is another top trending media website that has it all. It is a community network-based website where people can find their interests, hobbies, and passions. It is a social news website where a vivid range of content is curated through voting. It is also promoted by its very own site members and this makes it very popular. It provides high-quality content and is a sure good-to-go website for your boredom. Let's dive into anything with Reddit.
Awkward Family Photos
All the photography lovers !! Here is the site for you. Awkward family photos contain all sorts of Photos including Family, Babies, Celebs, Couples, Co-Workers, & Teams, Friends, Kids,  Teens, Grandparents, Grandma, Grandpa, Mom & Dad,  Mom, Dad, Pets, and so on. Well, this is not like any normal photography website. This site will take you on a roller coaster of fun with its embarrassing and hilarious photo collection from all sections. One can easily pass their time while scrolling through this site. If you wish you can also download some of the pictures to share with your friends and family and laugh together. Do check this out now and eradicate your boredom.
OCEARCH Shark Tracker
Tracking sharks as they swim around the ocean isn't the most traditional way to waste time on the internet… but it might be the most interesting.
Track Sharker, a tool developed by the Marine Research Group OCEARCH, allows you to track tagged sharks – all of which have names – as they travel around the world. You can even zoom in on a specific location to see which sharks are present and where they've been swimming and traveling in the previous year.

Gravity Points
Gravity Points is a digital "pen" designed by Akimitsu Hamamuro that is quite captivating. The website simulates gravity by allowing you to draw small gravity centers on your screen. Then, even smaller floating objects will flock to and orbit these gravity centers.

CONCLUSION
Before saying goodbye we want to ensure that this article was helpful to you. Hope this article is the one you were searching for. As we provide here a list of the top websites which one can check to kill their boredom we also provided here the links to the sites to help you find them easily. Make sure to check them out.