TikTok is the latest fad among the internet-savvy generation. It is a free social media application that enables watching, sharing and creating videos with the lip-sync to the top music blockbusters. The app runs on iOS and Android operating systems with equal efficiency. As a world wide used app, reach larger audiences and become famous in a short span of time.
This article has information about TikTok origin, its famous stars, celebrities using this app, why it was once banned in India and how to increase your TikTok app music followers/ fans base using legal and genuine ways as fans are the essence of becoming famous on this social media platform.
What is the TikTok app?
The app works on smartphones very well. Originated as musical.ly in the US, the app was rebranded in August 2018 when two apps merge to form the TikTok app which is currently having more than 100 million users across the globe. Incredible popular in mobile addict generation, the app has slick mashup features. 
Working on the same lines as that of another lip-syncing app Dubsmash, the user of the TikTok India app can watch videos of other users, record their videos and share them on this platform lip-syncing to trending music tracks, dialogues or other sound bites.
The genre of videos can vary in all possible themes be it funny, serious, dramatic or patriotic.
TikTok app, just like YouTube, is continuously gaining popularity in the world of short videos that have been a medium for connecting with friends, admirers or fans. To make it more interactive the app allows sharing of comments, likes and featuring even duets with co -TikTok users/ stars
Some facts about the founders of TikTok app:-
Tiktok app was launched in 2017 by Chinese developer ByteDance. It was created for the market outside of China. Bytedance is a Beijing based company that was founded in the year 2012. TikTok has a Chinese counterpart named Douyin for the Chinese Market where it was launched in September 2016. TikTok is not available in China but is popular in Asia, the United States and other parts of the world where its server is also based.
One of the most downloaded apps:-
Tiktok app download has been the most in the US alone in the year 2018. TikTok app is the first Chinese app to attend this landmark. Since then the app is available in over 150 markets and 75 languages hitting 1 billion downloads globally. On 23rd January 2018, the TikTok app music has been ranked #1 free mobile app download on App Store across the globe.
Celebrities like Jimmy Fallon and Tony hawk has joined the app back in November 2018.
Even on the Apple's App Store, TikTok is the world's most downloaded app in the first half of 2018 when 104 million downloads were done.
TikTok in India and its famous stars in India:-
TikTok app has over 200 million active users in India alone. Mobile users are trying to change 15 seconds of fame and that has made them hooked to this where they can share their short videos. Although a temporary ban was laid on the app that now has been lifted, TikTok owners are planning to invest 1 billion US dollars in India.
Tiktok is heavily investing in influencer marketing:-
According to the digital market analyst, TikTok has now launched a new advertising format that involves brand takeovers. This allows full-screen vertical display a, in-dash feed native videos and #challenge ads which makes the TitTok music app more immersive and interactive for the uses and the marketers.
Indian celebrities like Tiger Shroff, Shraddha Kapoor, Jacqueline Fernandez, Tanmay Bhat, Disha Patani are part of this app which has reached a milestone of over 100 million registered users. 
Other top Indian users/ TikTok stars are:- 
Aashika Bhatia who has been a famous Indian actor and answer having more than 5 million followers on TikTok.
Avneet Kaur is another celebrity having more than 4 million followers on the app.
Heer Naik is another TikTok celebrity having more than 3 million followers. She is also having a self-titled YouTube channel where she posts the same content as that of TikTok.
Manjul Khattar, having a fan base of 3 million followers on TikTok has officially received the tag of the comedian with the crown on the app. He has also collaborated with other TikTok stars to produce content related to comedy, dance, duet and solo on this app.
Disha Madan has 500k followers on this app followed by various other celebrities like Ahsaas Channa, Nagma Mirajkar, Awez Darbar, Manav Chabbra, Rishabh Puri, Mrunal Panchal, and Fizuliyat.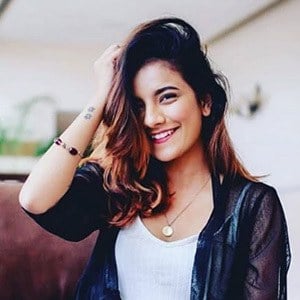 According to the survey conducted TikTok followers spend 11.5 minutes in creating and watching content on this app each day.
Top 10 TikTok songs for the year 2019 in India are:-
1) Happy Diwali was used over 2 million times TikTok users in their video
2) Ek mulaqat from the movie dream girl with 1.5 million times use.
3) 8 parche by Baani Sandhu head over 1.3 million times use by the app user
4) Arijit Singh song pachtaoge from the album Jaane ve.
5) Jass Manak hit song Lehanga
6) Tony Kakkar Bijali ki Taar
7) Darshan Raval's party number Dil Mera blast
8) 'Wah wai Wahh' by Sukh-e Musical Doctorz and Neha Kakkar
9) Tulsi Kumar song for movie Kabir Teri ban Jaungi
10) Remix by Tulsi Kumar, Neha Kakkar, and B Praak 'O Saki Saki'
11) Ek Chumma From Housefull 4
Why TikTok was banned in India?
TikTok was once banned in India for being Anti National app where the content of inappropriate nature was circulated. RSS affiliate Swadeshi Jagran Manch urged the Prime Minister on July 13 in a letter, calling a ban on the TikTok and Helo app. It was argued by the organization that the app is exposing the young generation of the country and influencing them for vested interest at an early stage. as influencers are getting paid by the parent company ByteDance, they are promoting products, issues, and ideologies.
It was also argued that the TikTok app is becoming a platform for igniting debates inimical to law and order. Also here sexually explicit material is being shared which are against Indian values. The reason given behind promoting the ban was exposing children to illicit content and impacting their mental health.
The ban was however lifted after a short while.
How to download TikTok videos?
TikTok allows videos to download from the app on the Android smartphone.
Or copy the video link from the video you want to download, open the video downloader for the TikTok app music and paste the copied link in the address bar and hit the download button.
To download videos in bulk and skip the copy-paste job video downloader for TikTok- No Ads, is the best app.
On this app, the download option appears right to the share menu. Download videos automatically from this app and have your kitty full of entertainment dose.
How to increase TikTok followers?
To increase TikTok followers, various websites on the internet that promises to provide genuine Tiktok followers. These sites promises to boost the career of TikTok celebrity lending assistance along with promotional services. Sites help TikTok user's account appear interesting so that people like to land on their profile page. But there are several ways of increasing TikTok fan base without hiring services of such sites. 
Some of them have been listed below:-
Try to be original with your shared content. Search for new ideas for short videos and be unique

Be careful about the location, background and props to be used during video recordings.

Create , post and share video content on a regular basis with your fan

Have a proper check on camera setting of your mobile like brightness, picture quality, stability, etc. 

Make sure to choose popular and most widely searched hashtags
Read More ::